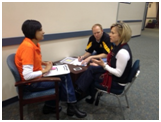 One Principal, who recognizes the importance of belonging as a key strategy for improvement in his school, works to create opportunities for frequent and regular conversation with and between staff and students. He believes the synergy that comes from collaborative work will accelerate progress in the school. He believes leadership is convening; that small groups are the unit of transformation, and that questions are more important than answers.
What do you believe? How do you use daily conversations to contribute to the healthy community in which you live and work?
Karen Anderson, PCC
The following two tabs change content below.
Karen Anderson, PCC, M. Ed.
Latest posts by Karen Anderson, PCC, M. Ed. (see all)