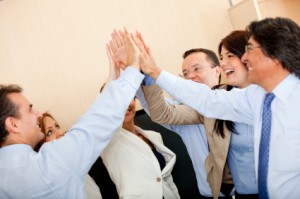 How does a team become high-performing and most importantly how do they stay there? When in place, these five attributes of high-performance can make a high-performing team a reality.
Working Agreements – Whether they are called Norms, Agreements, or Covenants to Excellence, the team is intentional about the development of working agreements. The hallmark; however, is that they hold themselves accountable for the norms. Knowing that conflict is inevitable when change is required, they plan for and anticipate how they will deal with conflict or different points of view when they show up.
Full Presence – Team members set aside distractions to be fully present for the work. They listen – really listen to one another, creating containers for thinking about options and possibilities before making the final decision.
Value for diversity of thought – Not only is it valued and appreciated; the team intentionally seeks different points of view as an expectation of how they uncover their best thinking. Combined with number two above, this attribute opens the door for new thinking, for out-of-the-box thinking, and for hearing all points of view prior to decision making. Typically, the first five to ten ideas that are generated will be the usual way of thinking about something. When a group commits to go beyond, they often will uncover a new or novel idea for team consideration.
Presume positive intent – With the brain's natural tendency to go negative before positive, this practice creates the opportunity for new wiring in the brain. High-performing teams practice generating all the positives about a concept or idea before consideration of "what if this", "that won't work", or "we've tried that." They practice the genius of "AND" over the thought stopper of "BUT!" This attribute presumes positive intent about one another – believing the best in others.
Work for the greater good – Successful teams focus on a higher purpose. In our case, that means what is best for students. It also means checking my agenda or ego at the door in favor of the reason we are all here in the first place – the success of our students.
On a scale of 1 (low) to 5 (high), how does your team score on these five attributes of a high-performing team? In what ways would you like to see your team take it to the next level?