In our earlier articles this month, the focus has been on ways to increase self-awareness through considering how your ways of thinking and responding to situations aligns with the big picture of who you are at your best, as defined by your identified values and principles and who you are in the activities of each day, a.k.a your big and little "who". However, as Tasha Eurich, an executive coach and organizational psychologist reminds us in her book, Insight: Why We Are Not as Self-Aware as We Think, and How Seeing Ourselves Clearly Helps Us Succeed at Work and in Life (2017), "To be truly self-aware, we must also build on that to understand our impact: that is, how our behavior affects others."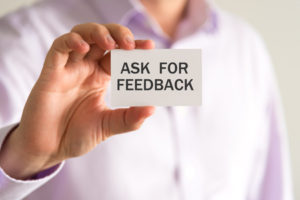 How does your behavior affect others? In many places, organizations turn to the 360 Assessment to compare how you see you to how others see you. One challenge with this is when it happens in a confidential manner, without revealing who is providing the feedback. We believe that feedback is critical and is best provided in open conversations where others give honest feedback, with the desire to support the person asking, in order to advance and enrich performance.
Here are four easy steps for getting feedback on how your behaviors are affecting others.
Ask for feedback. You don't have to go out and ask every person you work with to give you feedback. Rather, solicit feedback from 3 to 5 (or more) people who have your best interest at heart, have a good understanding of your current behaviors, and will be completely honest with you because they want to see you continue to grow and develop. And, if you're wondering why three to five people, consider what Tasha Eurich in Insight (2017) says. "Feedback from one person is a perspective; feedback from two people is a pattern; but feedback from three or more people is likely to be as close to a fact as you can get." So, let's gather some facts. And all you have to do with the facts is think about them, not necessarily act on them. Which takes us to point #2.
Set the stage and be ready to receive, reflect and respond to the feedback given. Begin with some information about your honest desire to continue to grow as a leader. Share some of your personal successes and one or two areas that are currently offering you challenges. Tell those participating that you are asking for their feedback, because you believe that they will be honest with you and because you know that they have your best interest at heart.
Ask three questions and give people time to think before they respond. Ask for specifics and remember that it's best to focus on a few things at a time, rather than asking for feedback on everything you do at work.

What am I currently doing that demonstrates my skills as a leader?
What are examples of growth that you observed in me since we began working together?
What is one thing, if I did it at an improved level, that would have a positive impact on my work and my performance?

As people share, remember to listen with the intent to understand. Take notes. There is no need to defend yourself, or to interrupt as they are talking. Just presume positive intent on the part of each person giving feedback and stay neutral as you gather the feedback.

Thank the participants and share how the feedback has been helpful. Share some first steps that you plan to take. If you are not ready to share specific steps, be sure to get back to the individuals at a later time to share how you are using the feedback.
Gathering feedback from others on an ongoing basis indicates your complete desire to increase your levels of self-awareness as does your ongoing reflections about your big and little "who". And, remember what Emerson said, "To finish the moment, to find the journey's end in every step of the road, to live the greatest number of good hours, is wisdom."