What keeps partners moving in the same direction and what does this have to do with establishing the coaching agreement?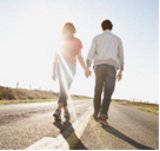 Imagine a couple who marries and has a beautiful wedding ceremony.  Everything about the ceremony goes exactly as planned through the combined thinking and ongoing agreements between the bride and groom.  It's as if the two began the process of partnering as a married couple before the actual marriage began. Now imagine that same couple five years later, married and still committed to each other and yet not experiencing the level of quality they expected from the marriage, partly because they no longer take the time to talk together and reach agreements about what they want.  It's as if they're headed toward the future with different mind maps on where they're going and how they plan to get there.  Successful marriages call for agreements up front and throughout the relationship.    
A similar set of agreements happen in the coaching relationship.  The agreements in this partnership, while not as intimate or personal as in a marriage, are significant enough to be identified by the International Coach Federation as one of 11 critical competences of a qualified coach. An effective and competent coach understands that coaching agreements between the coach and the client are established both at the beginning and throughout the relationship, taking on the form of macro and micro agreements.
Formal agreements at the macro level happen prior to beginning the coaching relationship. These agreements include parameters about how the coach and client work together, what the coaching relationship offers and does not offer, and clarity of goals the client wants to accomplish.  In this partnership, different from a marriage, the client is always the ultimate decision maker about where the conversation goes, including whether or not a change in conversation direction occurs.  The client sets the agenda. The skilled coach exhibits an attitude of exploration and partnership with the client and moves in the direction the client wants to move.
Examples of coach language used at the beginning of a coaching session to establish the macro agreement are:
 "As you think about the overall goals you've set for yourself this year, what would you like to focus on today and what do you want to achieve by the end of our call?"
"In our time today, what's the most important thing for us to focus on and how will you know that it's been a successful conversation for you?"
"We have about 30 minutes together today. What would you like to work on and what will be indicators that it's been time well spent?" 
Examples of coach language used for micro agreements happening throughout a coaching session are:
 "Now that we've established the focus for our conversation, where would you like to start?"
"It sounds like there are two imminent challenges you are facing.  Which one do you want us to focus on first?"
"Would it be helpful if we spent a little time thinking about …?"
 "How are we doing on giving you what you wanted?"
"Are you ready to move forward?"
 "May I challenge you here?"
"There seems to be a gap between what you say you want and what you are doing.  Would you like to talk about this?"
"Are we ready to end?"
"What steps do you want to take between now and when we next talk?"           
Coaching For Results includes specifics about how to establish macro and micro agreements in the seminars we provide.  Whether or not you are preparing to become a certified coach, or just wanting to increase your skills as a coach leader, establishing clear coaching agreements is vital for coaching success. 
What new insights are you having about establishing coaching agreements?  In what ways do you plan to increase your skills in establishing coaching agreements?
 
By Vicky Dearing, ACC
Coaching for Results Global
The following two tabs change content below.
Vicky Dearing, PCC, M. Ed.
Latest posts by Vicky Dearing, PCC, M. Ed. (see all)