This month's blog post is about one of our own – Riva Korashan – who passed away in January after a brief illness with cancer followed by pneumonia. We at Coaching For Results Global are still trying to figure out how best to deal with this sudden and deep loss and we decided that one way is to share our loss with our readers in the hopes that we not only shine the light on Riva but also send a reminder out about how precious life is and how grateful we are for the wonderful friends we meet and spend time with along the way. Here are words from CFR Global President, Frances Shuster, who shares personal thoughts.
To learn more about Riva and the impact she has had on others, go to www.coachingforresultsglobal.com and click on "coaches."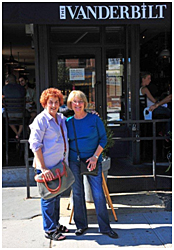 Picture at Right – Riva Korashan (left) and Frances Shuster, October 2011
I am still reeling over the loss of our dear friend and colleague, Riva. She left us far too soon. I see constant reminders of her all around me. I hear her beautiful voice singing, "I Hope You Dance", which she led at the close of each of our in-person meetings.
Riva was my first CFR coaching circle coach. We talked on Sunday nights. Then I coached her. Sunday nights again. So each week, when 8:00 p.m. Sunday night Central Time rolls around, I remember our deep and life-changing conversations.
When Kathy, Karen, Edna and I worked with Riva's Leadership Academy in New York City, the first thing that struck us was the evident deep respect and regard with which Riva's United Federation of Teachers Teacher Center (UFTTC) colleagues held her. We knew that about her, and it was uplifting to witness that those who had known her longer and on a daily basis also felt the deep love we had for her.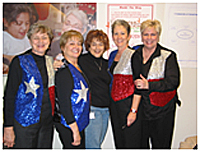 Left to Right: Edna Harris, Frances Shuster, Riva Korashan, Karen Anderson, Kathy Kee in New Your City
That work in New York City was the genesis of my love for the City. I have visited a number of times since, each with Riva being my husband, Jim's, and my enthusiastic and effervescent guide. She took us to places from her childhood and newer loves in the city as well. I will never visit there again without feeling her presence.
I have a number of "Riva stories" to share. I invite you to share yours here on our blog.
As a friend,
Frances Shuster, PCC
The following two tabs change content below.
Frances Shuster, PCC, M. Ed.
Frances Shuster
is a Partner with Results Coaching Global and coauthor of Results Coaching: The New Essential for School Leaders. She is a faculty instructor and coach for the Results Coaching Global Accredited Coach Training Program (ACTP).
Latest posts by Frances Shuster, PCC, M. Ed. (see all)