We follow the International Coach Federation Code of Ethics and Core Competencies.
The Utilization and Impact of Leadership Coaching in Organizations: Results from the Second Annual Benchmark Study – View study results here.
Learning Forward (Formerly the National Staff Development Council)

Books by RCG Coaches!
RESULTS Coaching Next Steps: Leading for Growth and Change
Kathryn M. Kee, Karen A. Anderson, Vicky S. Dearing, Frances A. Shuster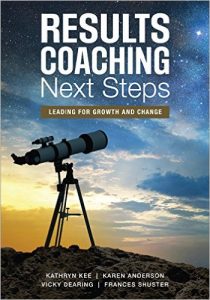 Grow yourself in order to grow your team.
Do you spend your days managing others only to find you're still putting out fire after fire? What if there was a better way to get things done? There is—leadership coaching is disrupting the scattered management era of education in all the right ways.
Get the tools and strategies needed to transform how you think about school supervision that builds capacity, leadership, and learning. This book will help you:
Learn to use neuroscience research productively
Expand your use of communication skills
Understand examples of leaders implementing coach-like behaviors into everyday practice to produce results
Learn specific approaches to supervise and coach for growth
Approach difficult conversations that impact thinking and change with confidence
At the crux of coaching culture is mindset—this book will teach you how to cultivate a growth mindset and strong emotional intelligence as you coach and grow capacity in others.
"RESULTS Coaching Next Steps invites leaders to function as coaches and clearly teaches them how to coach. It is truly transformational for those unfamiliar with coach leadership and for veteran coaches alike. This book transformed me as a school principal and continues to serve as a fundamental resource in training school leaders. It is without a doubt my top recommendation to anyone who asks how to learn coach-leader skills."
—Dr. Hank Staggs, ACC, Director
Governors Academy for School Leadership, Tennessee
"Finally! Another must-have for my professional library! RESULTS Coaching Next Steps speaks to education leaders who continue to focus on being a coach leader, no matter what their title or position. The book drives novice and experienced coaches to reconnect to the essentials and renews your commitment to never interact the same way again."
—Kim Richardson ACC
Teacher Development Coordinator, Hampton City Schools
Order RESULTS Coaching: The New Essential for School Leaders now!

RESULTS Coaching: The New Essential for School Leaders
Kathryn Kee, Karen Anderson, Vicky Dearing, Edna Harris, Frances Shuster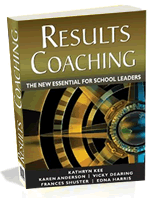 A must read for all school leaders who are serious about achieving long-lasting, transformational school results!  RESULTS Coaching: The New Essential for School Leaders, already selected as one of the four National Staff Development Council Book Club Selections for 2011 and published in a joint venture with Corwin Press and the National Staff Development Council,  will provide a clear pathway toward highly developed "coach-leader" attitudes, behaviors and skills necessary for 21st century school leaders.
RESULTS Coaching is a leadership model based on coaching relationships with staff members to help them grow as professionals. Built upon the International Coach Federation standards and competencies, this resource for "coach leaders" offers:
A coaching navigation system for creative thinking and solution finding
Effective communication methods, such as committed listening, powerful paraphrasing, presuming positive intent, and reflective feedback
Testimonials of coach-leaders describing the impact of results coaching
Strategies, tools, and questions for conducting open and reflective conversations
Order RESULTS Coaching: The New Essential for School Leaders here: RESULTS Coaching
Results Coaching Global is proud to announce this long awaited book authored by five of our very own associates, all CFR Board of Director Officers. Kathryn Kee, Karen Anderson, Vicky Dearing, Edna Harris, and Frances Shuster all certified through the International Coach Federation as Professional Certified Coaches are well-respected in the field of education. All five have spent the greater part of their careers building their own knowledge and expertise in the area of coaching and training as highly regarded and accomplished school leaders, professional coaches, and national leaders of training and professional development. We know this book will have a positive impact on your work as a coach leader! Order today! RESULTS Coaching

Results Coaching Global's Kathy Kee is Contributing Author to …
NO WINNER EVER GOT THERE WITHOUT A COACH

This guide offers insights from several of the very best professional and personal coaching in the business. Let's face it – there are times when even the best of us find ourselves in a rut; doing the same things in the same way; joy or excitement has left the career; just not reaching the potential which lies within. This is the time to look around and find a coach. Reading this book allows one to read about many coaches, what they are doing and how they are doing it, and apply to our own lives. Everyone wants to achieve more and get results from their efforts. This book offers many ideas and possibilities from many walks of life – finance, science, education, business, and so many others. Enjoy as you read about, witness and spread the word about the power of having a coach!
Order No Winner Ever Got There Without A Coach at Paypal:

Mobile Apps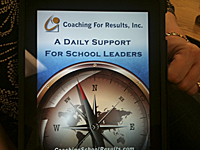 RESULTSCoach is a mobile app developed for educational leaders. It offers an always-available review and reminder of the language and words that have the most powerful impact to bring out the best in your own learning community. This powerful app also includes visual tools, a feature for goal setting, and a handy mobile journal.
Download the RESULTSCoach app now on iTunes for Apple devices or Google Play for Android devices.