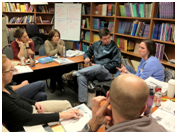 "Houston: We have a problem!" What if the effectiveness of your team were a life or death situation like the Challenger disaster? What if your team knew there was an "o-ring" flaw in some aspect of teaching and learning and you failed to address it?
While some would say that our work as educators does not hold the urgency of life or death, it does have severe implications for the lives of the children we serve. One of the outcomes of the study of the Challenger crash was an awareness that teams knew of the danger and failed to speak or do anything about it.
Considering that teams are the way we work in schools, what do you know that needs to be spoken or accomplished on behalf of kids?
In their book, The Wisdom of Teams, Katzenback and Smith state that unsuccessful teams lack discipline and a performance focus. Their message is that "team performance results from adherence to a basic discipline with rigor and consistency by all team members."
One assumption they challenge is that any small group can be a team for any purpose provided the right leader is picked. Rather their experience indicates, "the leader is less important than a clear compelling performance challenge that results in mutual accountability." Further, "team performance is a function of consciously making a few critical choices rather than leaving it to instinct and chance."
The power and potential of team can be missed in the simplicity of how Helen Keller describes it. "Alone we can do so little, but together we can do so much!" In this day and age, it seems that educators who are taking Helen Keller's quotation to heart as a way of accomplishing their work, are the ones outperforming all others. Whether it's a grade level, a department, a PLC, or a school improvement team, those who have a culture of collaboration are achieving more.
One such team of sixth grade teachers accepted the challenge of finding a way to help their students perform successfully in mathematics as measured by the state assessment. Putting their heads together to define the process and identify strategies for higher levels of thinking for problem solving resulted in 100% mastery across all six classes of sixth graders . . . year after year after year. The process was first adopted across the campus and then throughout the district as a model of collaboration and an example of what a community of adult learners can do.
They did just what Katzenback and Smith described above. Because the very nature of the work was, in and of itself, a compelling performance challenge . . . one with such high stakes that mutual accountability was non-negotiable, every step was intentional, leaving nothing to chance. When something did not work as planned, they would spin on a dime – huddle, strategize, implement, assess, and move forward. Each and every child was monitored for success. No one slipped through the cracks – students or adults.
What is the compelling performance challenge for your team and how do you hold yourselves mutually accountable?
The following two tabs change content below.
Karen Anderson, PCC, M. Ed.
Latest posts by Karen Anderson, PCC, M. Ed. (see all)