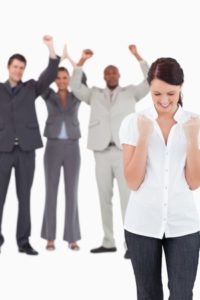 Congratulations! This month's three-part focus has been on celebrating the impact of coaching from one district's perspective. Now, we will celebrate one school's success in a year's time.
Jackson Middle School is a technology magnet school in Garland ISD. In 2014, the school was struggling with Index 2 on the state accountability system. This index is the Student Growth index and Jackson was at 29; one point from the minimum of 28. While other accountability indexes were okay, the team knew that Index 2 was a predictor for future problems in the other indexes if no action was taken.
In a data analysis session, the team realized that honor students were not growing; thus finding themselves at a critical disadvantage when compared with students in other schools. By the next testing year (2015), Jackson's Index 2 went from 29 to 38 which was one of the highest in the district among middle schools. Jackson staff and students had reversed the trend and were showing the greatest growth among the district Middle Schools. In Math alone, students went from 44% to 82% meeting or exceeding expectations. In addition, Index 1 went from 79 to 82, Index 3 from 42 to 50, and Index 4 from 51 to 59.
According to David Dunphy, Jackson Principal, "There were a lot of factors that resulted in our improvement. We did intensive interventions and ensured all of our students had a 30 minute intervention/growth period, instituted the "Jackson Essential 6" – strategies and practices that all teachers were expected to implement, and initiated the coaching model with our core teaching staff." For 2014, Jackson's Essential 6 were Framing the Lesson, Frequent Small Group Purposeful Talk, Recognition and Reinforcement, Critical Writing, Philosophical Chairs, Socratic Seminar.
There was also an effort to separate coaching from evaluation; a concept from Bambrick-Santoyo's Leverage Leadership. All core teachers were coached by the three administrators and the two counselors on our campus. Mr. Dunphy received the Results Coaching training in the summer of 2014 after which he requested his Assistant Principals and counselors attend the training as the school year started.
These five members of the leadership team then divided up the core tested subject area teachers and established coaching relationships with them. This included all math teachers, all reading teachers, 7th grade English, 8th grade science, and 8th grade social studies teachers. Each leader had about 5 teachers they coached each week. The coaching model was implemented with observations and coaching conversations held each week as much as possible. The administrators were careful to coach only those teachers they did not appraise with the official evaluation system (PDAS). This ensured trust was built so teachers could be vulnerable and really work on their craft without worry that it would be reflected in their appraisal.
There was emphasis on and statistics kept on the Jackson essential 6 strategies with the teachers, especially when they were at a loss for what to be coached on. For the most part, teachers were able to articulate their area for coaching each week. Some stayed with the same topic as they were improving and others went from one area to another as they saw growth and accomplishment. Videotaping of the observations and coaching sessions were also used to help the coaches improve their own coaching.
The Administrative team including the Area Director held standing meetings every Thursday where they followed a protocol for holding themselves accountable for progress. Each week's Agenda included:
Reporting on the previous week's commitments
Updating the Scoreboard to ensure sustained progress toward the established goals
Creating the next step in the plan – to clear the path for new commitments
Practicing coaching in a coaching lab format to review and offer feedback on a coaching video. Responsibility for the video rotated each week and was available to the team for preparation on Tuesday before meeting on Thursday.
So, that brings us back to the question posed at the beginning of this month's series. "Does coaching make a difference?" Well, as you know from our seminars, that is a "yes/no" question that does not presume positive intent. Instead, we ask, "In what ways is coaching making a difference where you work?"
How are you measuring your impact with coaching? Stop, reflect, and celebrate your success. And, as a footnote, share your successes with us!  (*_*)
The following two tabs change content below.
Karen Anderson, PCC, M. Ed.
Latest posts by Karen Anderson, PCC, M. Ed. (see all)